Our month-long public beta testing has concluded successfully, and the KuCoin Wallet APP is now officially live. KuCoin Wallet effectively redefines the decentralized wallet, taking you on a brand new Web 3.0 experience.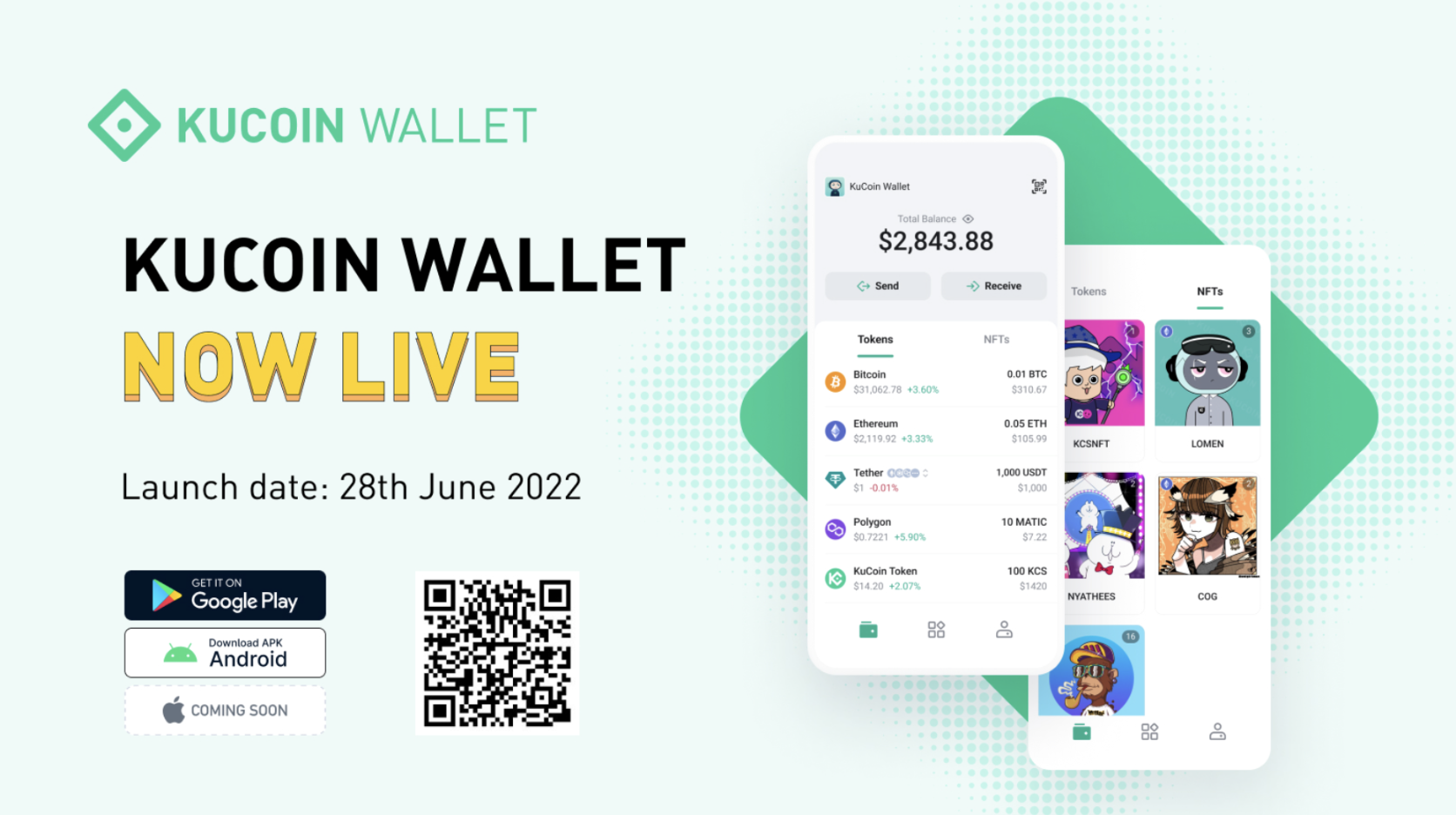 KuCoin Wallet is a secure and convenient multi-chain crypto wallet that is fully supported by the KuCoin ecosystem. To provide the best user experience possible to our users, KuCoin Wallet has been publicly tested by a large number of users from all over the globe.
More than 2 million users have registered or the public beta testing of KuCoin Wallet, and we have received invaluable feedbacks from our users, which we will use to further perfect the user experience. We thank all of our users for their strong support and precious feedbacks of KuCoin Wallet.
In the official KuCoin Wallet APP, we have significantly enhanced server performance and client-side stability, giving users a seamless and optimal wallet experience.
In the past, wallets were only viewed as a crypto storage medium. Today, due to continued advances and innovations in blockchain technologies, wallets have become an integral part of blockchain infrastructure, as well as the gateway to the Web 3.0 world.
KuCoin Wallet is a user-friendly, secure, and professional Web 3.0 wallet that allows users to easily explore the decentralized web. KuCoin Wallet allows users to quickly create decentralized accounts, greatly reducing the barrier for entering the Web 3.0 world and providing users with an exceptionally smooth experience.
As a multi-chain wallet, KuCoin Wallet allows users to manage their crypto assets on multiple blockchains. KuCoin Wallet currently supports 4 mainstream public chains, including ETH, Polygon, BNB, and KCC chains. Users can use KuCoin Wallet to send, receive, and hold ETH, USDT, USDC, BNB, and more. As a gateway to the Web 3.0 world, KuCoin Wallet allows users to easily explore popular DApps on various public chains as well as play the hottest blockchain games whenever they want.
In addition, through integration with the NFT market (Windvane), KuCoin Wallet will become a one-stop service platform for users to purchase, store, and display NFTs. Furthermore, users can set their favorite NFTs as avatar, which was an extremely popular feature during the public beta testing.
Security is one of the key issues that our users are most concerned about, which is why security has always been KuCoin Wallet's most important priority. As a self-custody wallet, KuCoin Wallet gives users full control over their assets. Under the dual protection of the KuCoin Exchange's advanced security technologies and Hacken security audit certification, KuCoin Wallet users can rest assured that their assets are secure and fully protected, and they can manage their assets in a simple and secure way.
The head of KuCoin Wallet, Jeff, points out that: "As a completely new product, we still have a lot to do. We will release even more basic and essential features, integrate even more mainstream public chains, and further enhance the user experience. We will also explore even more innovative Web 3.0 features. Most wallets do not provide support for user identities and all users get when creating a wallet is an address. We would like to change this to allow users to create identities in the Web 3.0 world. We are working on many exciting ideas, innovative features, and practical applications. Please stay tuned! "
Finally, Jeff adds that since we are KuCoin's official decentralized wallet, we will integrate even more features from the KuCoin ecosystem into our product. If you are a user of KuCoin Exchange, then KuCoin Wallet will be the best choice you ever make for managing your CEX and decentralized assets.
Get KuCoin Wallet for your mobile
Looking back at the evolution of the crypto industry, from DeFi to NFTs, and then to GameFi, the focus of the market is constantly changing. KuCoin Wallet will continue to closely follow industry and market trends to provide our users with the most optimal product experience. The release of our official APP is only the starting point. Going forward, KuCoin Wallet will continue to push the envelope forward, introducing new features that'll give users an edge when exploring the exciting new world of Web 3.0.
About KuCoin Wallet
KuCoin Wallet is a secure and easy-to-use crypto wallet that supports multi-chain aggregation powered by the KuCoin ecosystem. With the security expertise of KuCoin and the leading security technology audited by Hacken, KuCoin Wallet is a self-custody wallet with users having full control of their assets. KuCoin Wallet provides the easiest way for users to manage multi-chain assets and enables them to buy, store and view NFT collections directly within the wallet. KuCoin Wallet is a gateway to the world of Web3 for all crypto users.
Join us
Twitter: https://twitter.com/KuWallet
Medium: https://medium.com/@KuWallet
Telegram: https://t.me/kuwallet
Discord: https://discord.gg/958cKHaG2m