You can now stake ETH directly in KuCoin Wallet with Lido. Download KuCoin Wallet now to get started.
We're excited to announce that one of our most requested features - ETH Staking - is now available. Start earning ETH staking rewards with APY up to 6.7% and splitting the extra 6,000 DAI rewards provided by KuCoin Wallet!
Event Duration: 2023-3-20 8:00 to 2023-3-28 8:00 (UTC)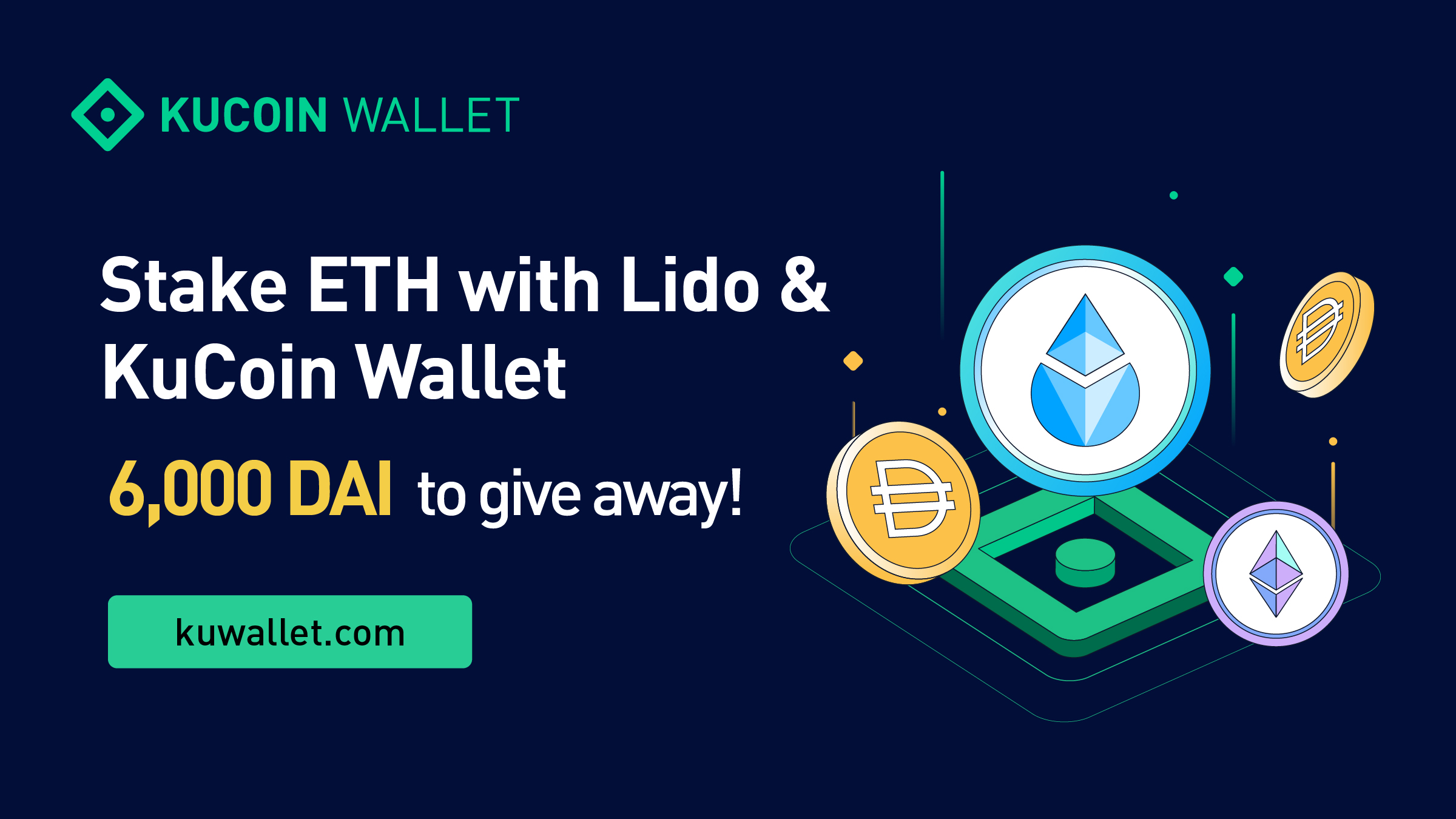 Event 1:

New User Exclusive Rewards of 1000 DAI!
All users that register for a KuCoin Wallet account during the event period and stake 0.5 ETH ​​ or more in KuCoin Wallet with Lido will equally share the prize pool of 1000 DAI.
Event 2: Staking Leaderboard — Stake and Earn a Share of 5,000 DAI
During the event, all users that stake at least 5 ETH in their account with Lido will qualify for a share of the 5,000 DAI prize pool. Users who qualify shall be ranked in accordance with the total amount they stake.
Prizes shall be distributed as follows:
| | |
| --- | --- |
| Ranking | Rewards |
| 1 | 600 DAI |
| 2-5 | Equally share of 1200 DAI |
| 6-10 | Equally share of 1000 DAI |
| 11-20 | Equally share of 1000 DAI |
| 21-50 | Equally share of 1200 DAI |
How to stake ETH in KuCoin Wallet:
Step1: Download the KuCoin Wallet App
Step2: Go to the Browser page and select Lido Staking
Step3: Enter the amount of ETH you would like to invest
Step4: Tap Continue
👉Click here for full tutorial~
Instructions on staking:
KuCoin Wallet will randomly take snapshots of your stETH every day during the event and calculate the average amount staked as follows: the sum of the staking amount per snapshot/number of snapshots.
stETH staked in DeFi protocols other than Lido will not be counted in the final calculation.
Notes:
Each mobile device can participate with only one address.
Participants with the same staking amount will be sorted by the timestamp of their first staking.
Rewards will be airdropped to the user's KuCoin wallet account within 10 working days after the event ends.
During the event, any abusive behavior, batch creation or restoration of wallets, or any cheating behavior shall disqualify the user from the event. KuCoin Wallet will implement these rules strictly.
KuCoin Wallet reserves all rights to the final interpretation of this event.
Risk Disclaimer: Crypto is highly volatile and contains huge amounts of risk, please proceed at your own risk. KuCoin Wallet shall not be held accountable or provide compensation for any loss incurred.
If you have any questions, please don't hesitate to contact us:
Telegram: https://t.me/kuwallet
Twitter: https://twitter.com/KuWallet
Discord: https://discord.gg/958cKHaG2m
About Lido Finance
Lido is a liquid staking solution for Beacon chain backed by industry-leading staking providers. Lido lets users stake their ETH - without locking tokens or maintaining infrastructure - whilst participating in on-chain activities, e.g. lending.
Our goal is to solve the problems associated with initial Beacon chain staking - illiquidity, immovability and accessibility - making staked ETH liquid and allowing for participation with any amount of ETH to improve security of the Ethereum network.
About KuCoin Wallet
KuCoin Wallet is a secure and easy-to-use crypto wallet that supports multi-chain aggregation powered by KuCoin ecosystem. With the security expertise of KuCoin and the leading security technology audited by Hacken, KuCoin Wallet is a self-custody wallet with users having full control of their assets. KuCoin Wallet provides the easiest way for users to manage multi-chain assets, and enables users to buy, store and view NFT collections directly within the wallet. KuCoin Wallet is a gateway to the web3 world for all crypto users.