KuCoin Wallet officially launched the MVP version of its NFT aggregated trading market, which aggregates a number of major Ethereum trading markets and provides users with convenient trading functions and comprehensive asset data analysis. With improved liquidity and low trading fees, the market will serve as a global one-stop NFT service platform that covers everything from NFT lookup to trading.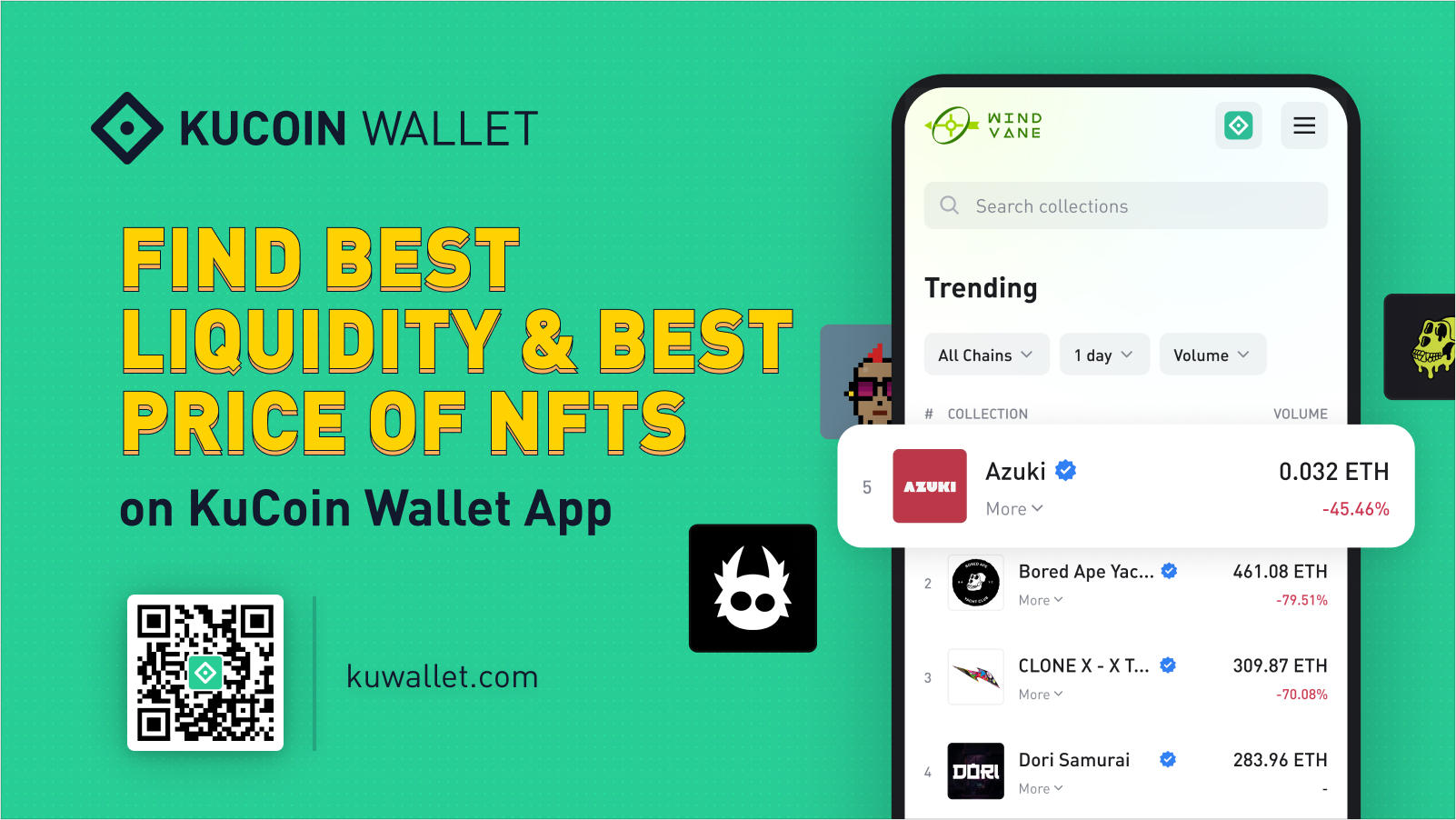 1. An improvement over traditional web-based transaction modes
Native embedding with KuCoin Wallet allows the NFT platform to provide users with one-stop NFT view, purchase, storage, and display services through their mobile wallet. NFT novices and experts alike will be able to enjoy the convenient experience and asset security delivered by trading NFTs through their mobile wallet.
2. NFT market aggregation provides liquidity
The KuCoin Wallet NFT aggregated trading market solves the problem of NFT liquidity by aggregating multiple NFT market orders. In addition to viewing basic information such as collections, items, and listings, users can also view NFT transaction information (including investment information such as floor price, trading volume, historical transactions, and other bids) across different platforms in a one-stop and real-time manner. The trading market enables the horizontal comparison of information across the entire platform without the need for any third-party NFT data analysis tools, helping users buy high-quality NFTs at the best price.
3. Multi-platform batch maker orders
In addition to realizing the one-stop price comparison and buying of NFTs, the platform also enables one-stop NFT listing. Users can list their NFTs on multiple platforms and configure different maker prices to greatly improve asset liquidity. The platform will help users match trades at the best price. The platform currently supports batch maker orders in leading NFT markets such as Looksrare and X2Y2, with support for more NFT markets to come.
KuCoin Wallet head Jeff Haul noted that "With the increase in user demand and maturity of project development, mobile wallets have become a key portal for users to experience Web3. We have been working hard to orient our products to the needs of investors and provide a more smooth and cost-effective trading experience." The launch of the NFT market will also serve as a milestone for KuCoin Wallet.
KuCoin Wallet is committed to building a multi-chain aggregated NFT trading market, and will continue to aggregate high-quality trading market resources to continuously improve the user trading experience. In addition to supporting the Ethereum chain, the platform will also gradually aggregate the trading markets of major public chains such as BSC and Polygon. The platform will launch powerful trading functions such as joint bidding, batch purchasing, and multi-coin payment. With the most convenient trading services and lowest fees in the industry, the platform will serve as the first choice for NFT users!
About KuCoin Wallet
KuCoin Wallet is a secure and easy-to-use crypto wallet that supports multi-chain aggregation powered by the KuCoin ecosystem. With the security expertise of KuCoin and the leading security technology audited by Hacken, KuCoin Wallet is a self-custody wallet with users having full control of their assets. KuCoin Wallet provides the easiest way for users to manage multi-chain assets and enables them to buy, store and view NFT collections directly within the wallet. KuCoin Wallet is a gateway to the world of Web3 for all crypto users.
Official Channels:
Website: kuwallet.com
Twitter: https://twitter.com/KuWallet
Medium: https://medium.com/@KuWallet
Telegram: https://t.me/kuwallet
Discord: https://discord.gg/958cKHaG2m