KuCoin Wallet is thrilled to announce its latest partnership with Unstoppable Domains. This strategic partnership makes crypto more accessible for everyone by reducing the risk of human error when sending & receiving crypto, drastically simplifying transactions for KuCoin Wallet users.
This means you can send and receive crypto in a more simple and secure way by replacing complex addresses with human readable Web3 domains in KuCoin Wallet APP.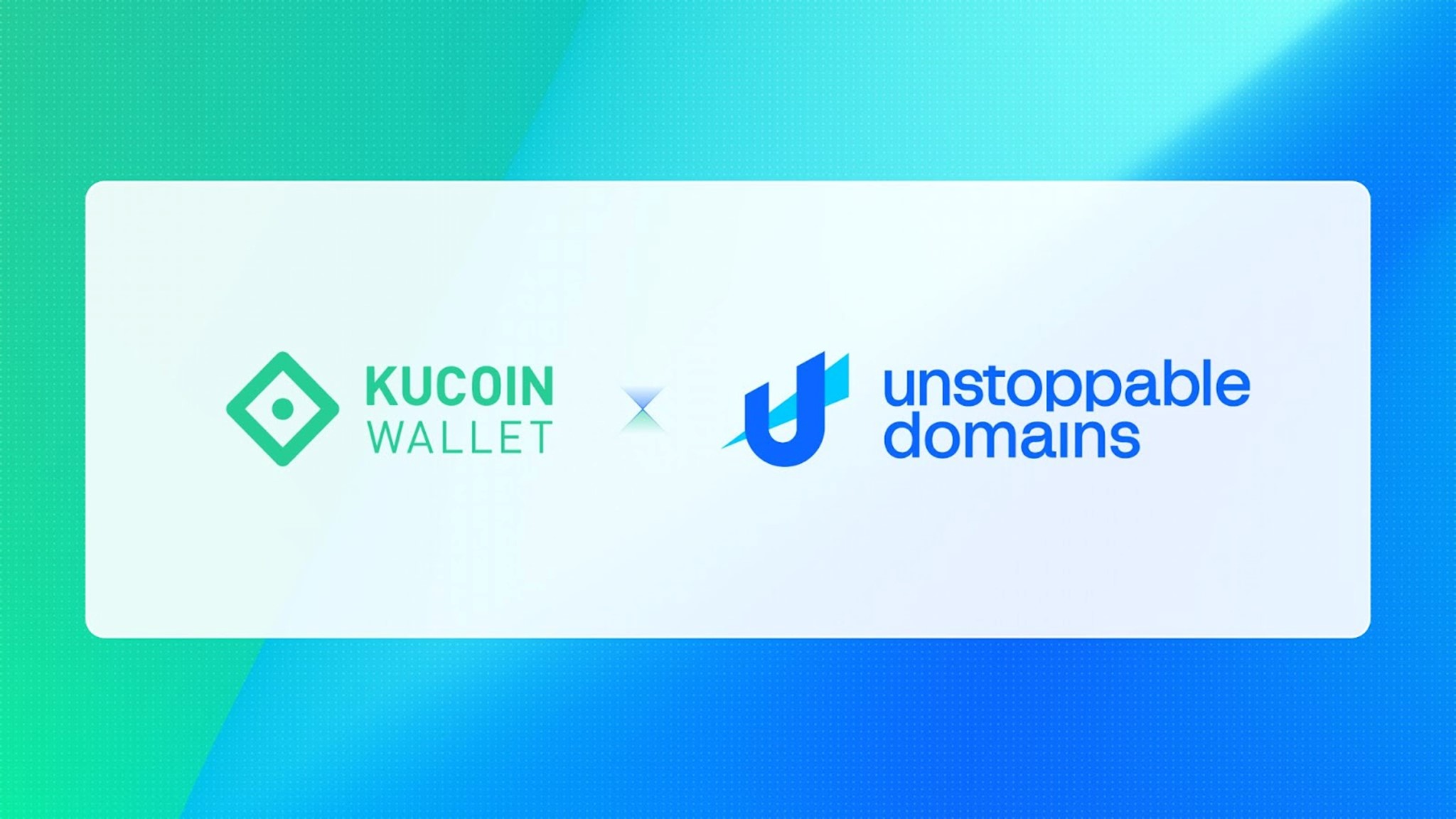 Get your Unstoppable Web3 domains at: https://unstoppableweb.co/Web3Domains
About Unstoppable Domains
Founded in 2018, Unstoppable Domains is building a digital identity platform for Web3. Unstoppable Domains offers Web3 domains minted on the blockchain that give people full ownership and control of their digital identity, with no renewal fees. With Unstoppable Domains, people can replace lengthy alphanumeric crypto wallet addresses with a human-readable name and log into and transact with hundreds of apps, wallets, exchanges and marketplaces. The company was named by Forbes as one of America's Best Startup Employers in 2022.
Benefits of this partnership
The partnership will allow KuCoin Wallet users to make transactions in a more user-friendly way with meaningful domain names instead of long addresses.
KuCoin Wallet always strives to improve user transaction experience and keeps exploring new innovations in Web3. Driven by this strategy, transactions via domain names in KuCoin Wallet App are supported by partnering with Unstoppable Domains, the leading Web3 domain name provider and digital identity platform. Using an Unstoppable Domain allows you to create a blockchain-connected web address similar to a URL — such as Samplename. crypto or Samplename.wallet. Such human-readable domains greatly increase transaction security by resolving blockchain addresses and preventing send/receive errors.
The Head of KuCoin Wallet, Jeff Haul says, "We are excited to work with Unstoppable Domains, who are on a mission to create user-owned, digital identity for every person on the planet. With Unstoppable Domains as one of our partners, we are able to integrate more innovative features in the future to make Web3 onboarding even more user-friendly and attractive."
---
About KuCoin Wallet
KuCoin Wallet is a secure and easy-to-use crypto wallet that supports multi-chain aggregation powered by the KuCoin ecosystem. With the security expertise of KuCoin and the leading security technology audited by Hacken, KuCoin Wallet is a self-custody wallet with users having full control of their assets. KuCoin Wallet provides the easiest way for users to manage multi-chain assets, enabling them to buy, store, and view NFT collections directly within the wallet. KuCoin Wallet is a gateway to the world of Web3 for all crypto users.
Stay tuned for more news about collaborations and integrations from KuCoin Wallet!
Official Channels:
Website:kuwallet.com
Twitter:https://twitter.com/KuWallet
Medium:https://medium.com/@KuWallet
Telegram:https://t.me/kuwallet
Discord:https://discord.gg/958cKHaG2m