If you have sent tokens from exchanges like KuCoin to KuCoin Wallet, there are many possible reasons which make you unable to see these tokens in KuCoin Wallet.
Read the article to know the reasons and learn how to solve the problem by yourself.
Why I don't see tokens sent from Exchanges in KuCoin Wallet?
The time needed for a crypto withdrawal depends on the tokens, ranging from a few minutes to a few hours. To see the tokens in KuCoin Wallet, you need to confirm the transaction is successful.
There are generally 2 ways to know withdrawal status:
1. Confirm the withdrawal status with exchanges
You can check the status of each withdrawal request on the exchange you withdraw tokens from.
If the status of the withdrawal is pending or processing, this means the withdrawal is not successful and you should wait for the confirmation on the blockchain. If the status is successful, then the transaction has been recorded on the blockchain.
If you're sure about the transaction, contact the customer support of the exchange directly.
2. Confirm the status on blockchain explorer
Another way you can use to confirm the withdrawal status is to check it on blockchain explorer. We'll use BSCScan as an example.
Go to BscScan and enter your KuCoin Wallet address. Click on "BEP-20" and check if you find the transaction. If you found the transaction and the tokens, this means the withdrawal is successful.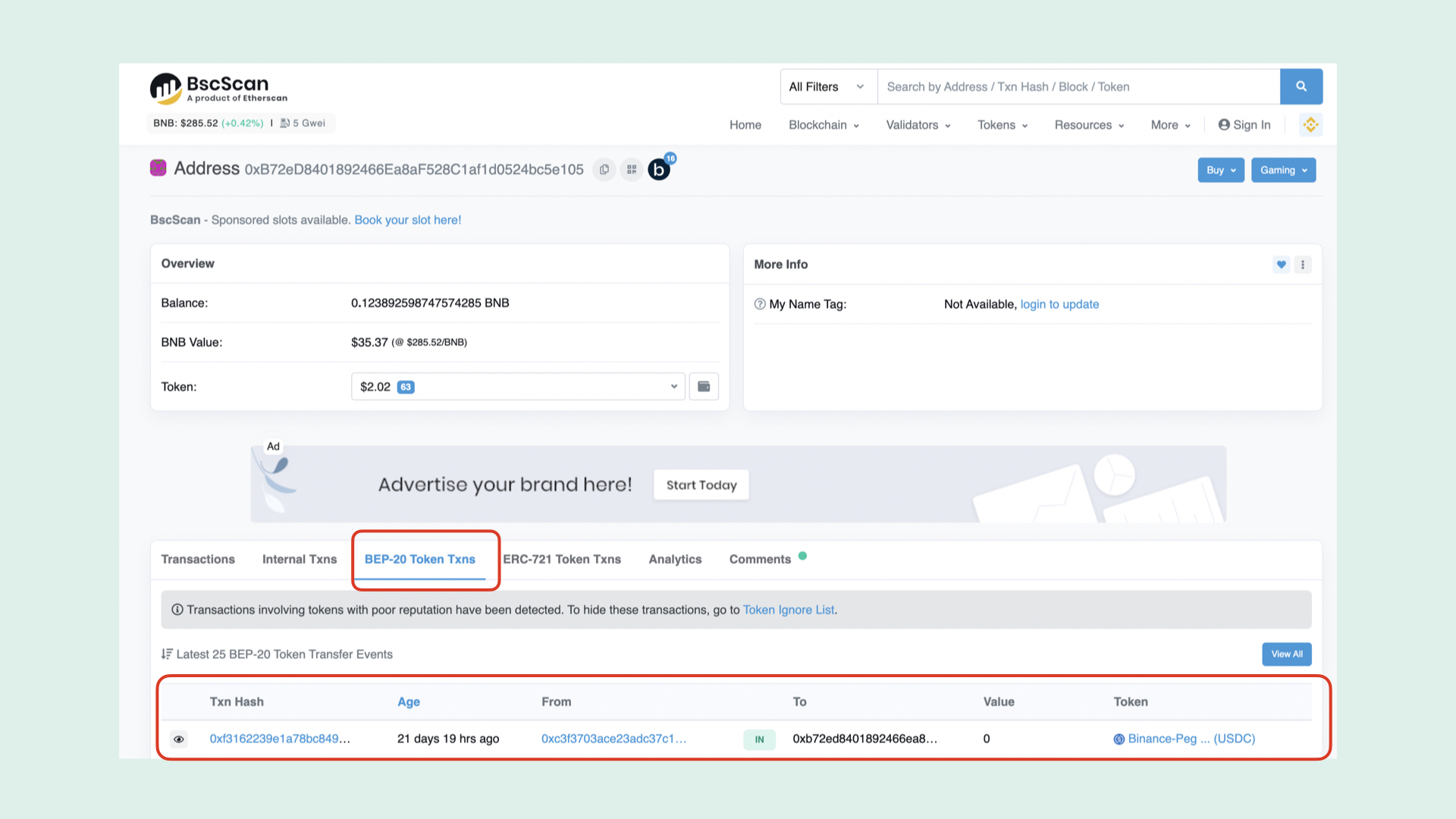 If you didn't find the transaction after a long time and the withdrawal status on the exchange is successful, possible reasons are sending tokens to a wrong address or on a wrong network.
Then read the articles below to solve your problem:
Send tokens to the wrong address
Send tokens to the wrong network
If you don't know where to check the transaction, refer to the block explorers below:
What to do if the withdrawal status is successful?
Follow the tutorial below to add the token on KuCoin Wallet and you'll see the token displayed on homepage.
How to add custom tokens on KuCoin Wallet?
About KuCoin Wallet
KuCoin Wallet is a secure and easy-to-use crypto wallet that supports multi-chain aggregation powered by the KuCoin ecosystem. With the security expertise of KuCoin and the leading security technology audited by Hacken, KuCoin Wallet is a self-custody wallet with users having full control of their assets. KuCoin Wallet provides the easiest way for users to manage multi-chain assets and enables them to buy, store and view NFT collections directly within the wallet. KuCoin Wallet is a gateway to the world of Web3 for all crypto users.
Join us
Website: kuwallet.com
Twitter: https://twitter.com/KuWallet
Medium: https://medium.com/@KuWallet
Telegram: https://t.me/kuwallet
Discord: https://discord.gg/958cKHaG2m