If you want to have more control over the gas you pay in KuCoin Wallet, follow this article to make advanced gas controls.
Before going into details, there are some basic terms which need to be explained firstly.
Basic Terms
Gas Limit (units of gas used)
The gas limit is the maximum number of units of gas you are willing to pay for in order to carry out a transaction or EVM operation. Different operations demand different quantities of gas units, just as different cars need different quantities of gas to run.
Gwei
Gwei is a unit of ether, the smallest denomination, which stands for gigawei. Gwei is used for calculating gas fees, or payments made by users to compensate for the computing energy required to process and validate transactions on the Ethereum blockchain.
Gas Price
Gas price is the price per unit of work done.
So, a transaction cost is the gas limit multiplied by the gas price. A transaction fee is similar to the fee you pay for a money wire transfer. You're paying the service provider for using their network. The lower a user estimates their gas limit, the lower the priority in the queue they will be.
Also, remember that the gas fee you pay is not charged or collected by KuCoin Wallet, and it's not something we can control.
How to use advanced gas controls?
You can precisely configure gas limit for a transaction on KuCoin Wallet. When you get to the final screen before sending your transaction, you will see "Gas Fee". We'll take the transfer of USDT as an example.
Tap the dropdown button on the right of "Gas Fee". You'll then see the default setting of gas fee in the column.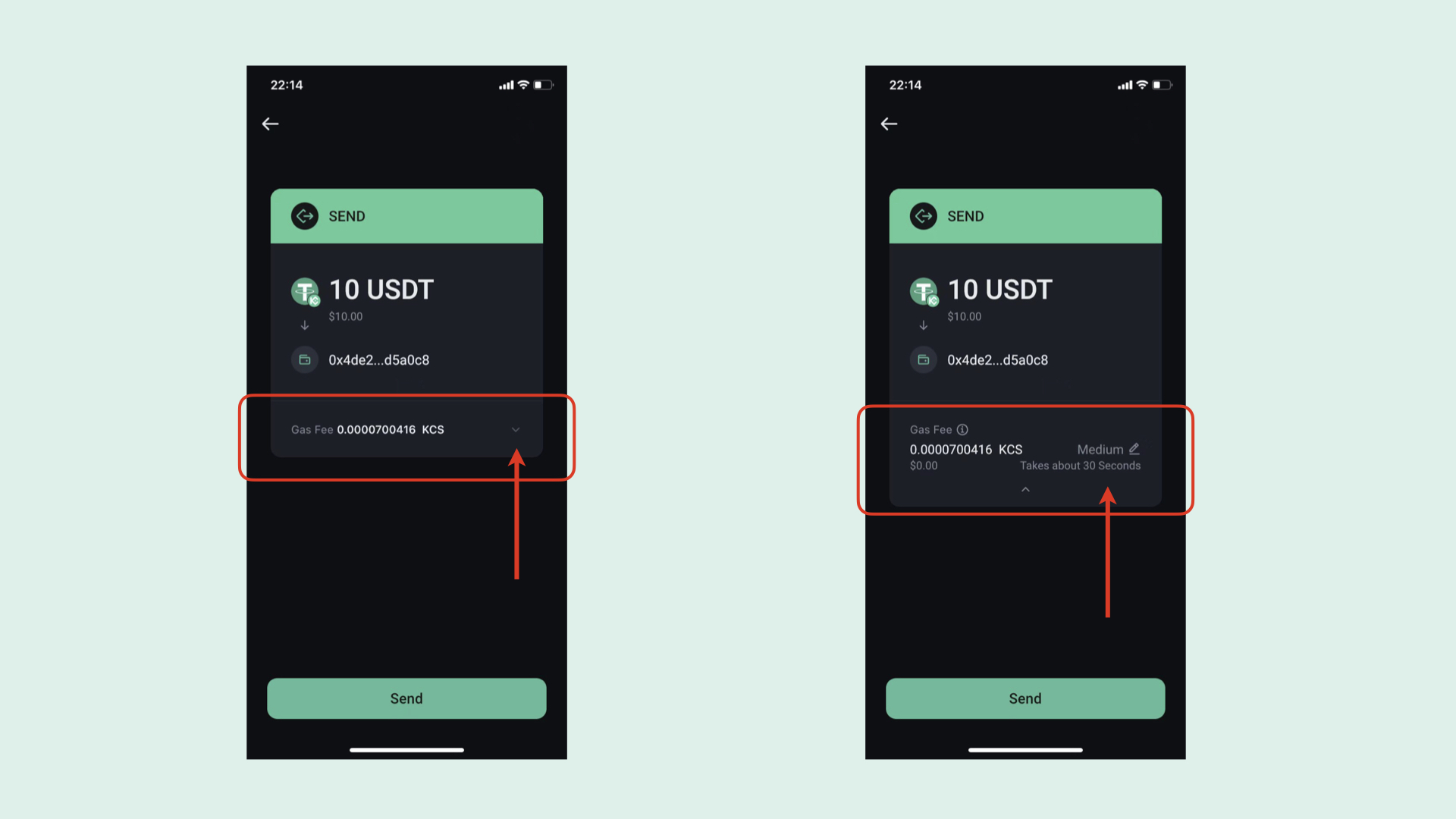 Click [Medium] and enter the page of "Adjust Gas Fee". Click [Set] to customize the gas fee. Input your desired gas limit and tap [Save]. You have successfully configured the gas fee.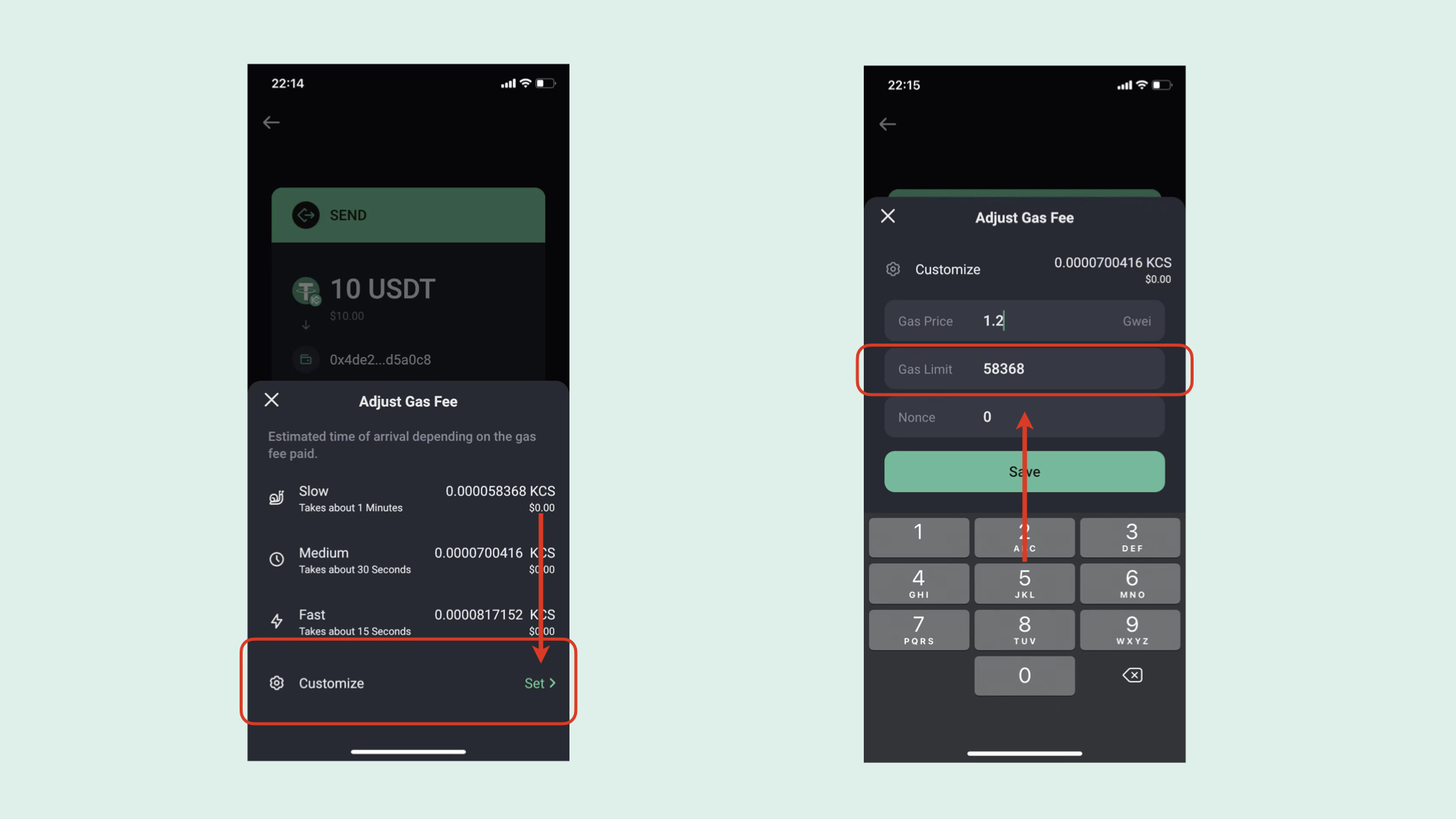 Do I need to edit gas limit?
Usually No!
KuCoin Wallet automatically sets your gas limit depending on the type of transaction you're trying to execute. In most cases, the gas fee of the default setting will be adequate to complete your transaction. If you want to check it or edit it, or there's an error and you need to adjust it manually, then follow the above steps to make advanced gas controls.
About KuCoin Wallet
KuCoin Wallet is a secure and easy-to-use crypto wallet that supports multi-chain aggregation powered by the KuCoin ecosystem. With the security expertise of KuCoin and the leading security technology audited by Hacken, KuCoin Wallet is a self-custody wallet with users having full control of their assets. KuCoin Wallet provides the easiest way for users to manage multi-chain assets and enables them to buy, store and view NFT collections directly within the wallet. KuCoin Wallet is a gateway to the world of Web3 for all crypto users.
Join us
Website: kuwallet.com
Twitter: https://twitter.com/KuWallet
Medium: https://medium.com/@KuWallet
Telegram: https://t.me/kuwallet
Discord: https://discord.gg/958cKHaG2m