Why I am getting an "Insufficient Gas Fee" error?
When you make a transfer or swap on KuCoin Wallet, a pop-up windows appears with "Insufficient Gas Fee". This means you do not have enough of your network's native token in your account to cover the cost of gas.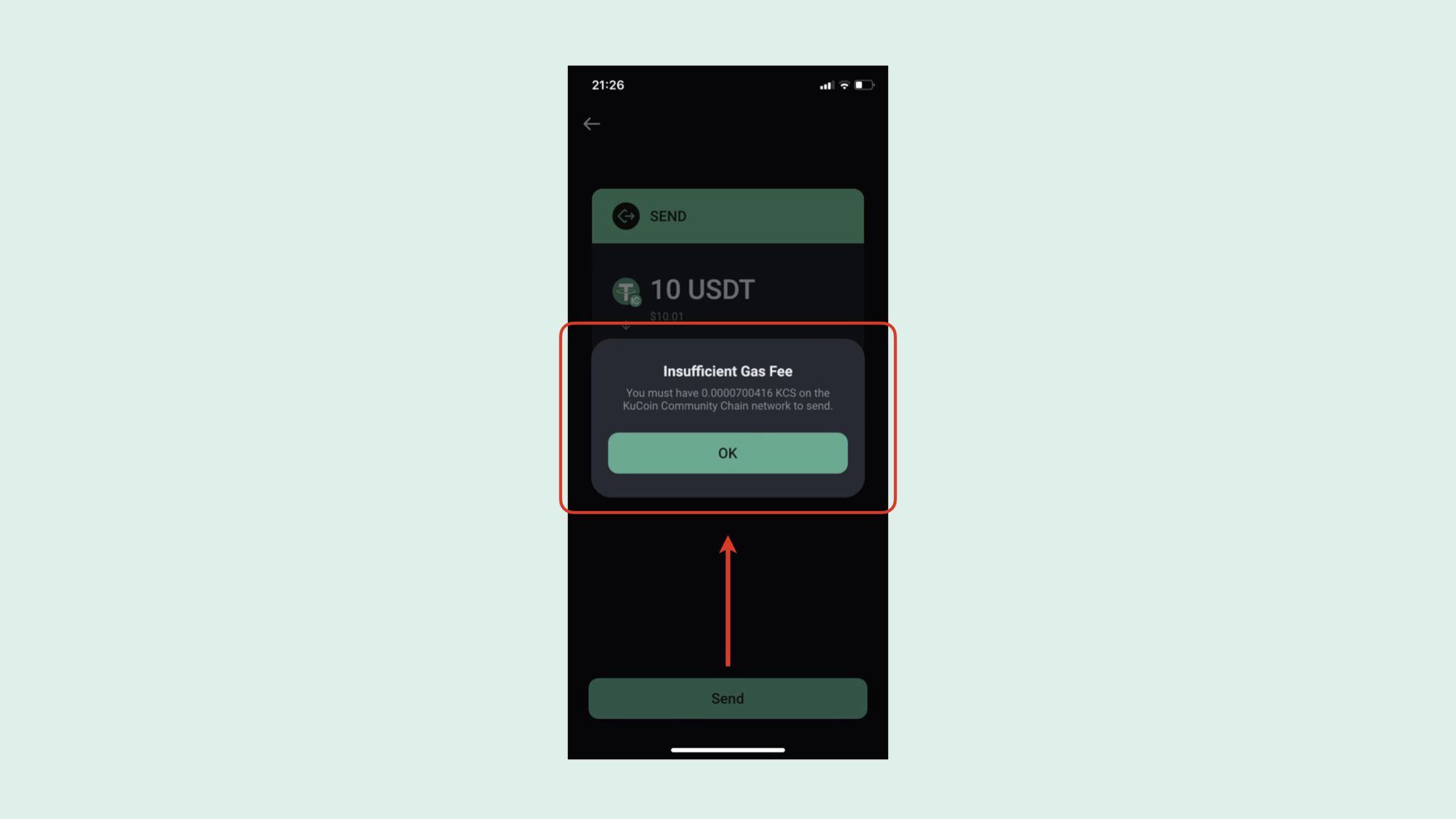 Generally, each transaction, including token and contract transactions, requires gas. You can think of this as a transaction fee. Gas is the unit of measure for how much computational work is required to process transactions and smart contracts.
The term is analogous to the gas that powers a car engine: it's the fluctuating, occasionally expensive cost of operation. More complex smart contracts require more gas to power their computation, just as a bigger, more powerful car takes more gas to run.
Examples of native tokens include:
Ether (Ethereum mainnet, plus layer 2 networks such as Arbitrum or Optimism)
BNB (for BNB Chain, formerly BSC)
MATIC (Polygon)
KCS (KCC)
How can I fix it?
You can remedy this by sending some of the necessary native token to that account in order to be able to make the transaction.
If you need to buy native tokens to reach a sufficient amount to make a transaction, you can either transfer the token to your wallet from an exchange like KuCoin, or swap other tokens to your desired native token on a decentralized exchange (DEX) through the bridge function.
About KuCoin Wallet
KuCoin Wallet is a secure and easy-to-use crypto wallet that supports multi-chain aggregation powered by the KuCoin ecosystem. With the security expertise of KuCoin and the leading security technology audited by Hacken, KuCoin Wallet is a self-custody wallet with users having full control of their assets. KuCoin Wallet provides the easiest way for users to manage multi-chain assets and enables them to buy, store and view NFT collections directly within the wallet. KuCoin Wallet is a gateway to the world of Web3 for all crypto users.
Join us
Website: kuwallet.com
Twitter: https://twitter.com/KuWallet
Medium: https://medium.com/@KuWallet
Telegram: https://t.me/kuwallet
Discord: https://discord.gg/958cKHaG2m