A phishing website refers to a fake website which is used to deceive users. The page of a phishing website would basically be similar in appearance to the real website. These fake websites are used by scammers to deceive users and obtain their important information such as secret phrases.
In general, phishing websites would only have one or a few pages, which will differ slightly from real websites. Scammers would usually advertise fake airdrops or impersonate official support staff, or find other means to attract users to their websites. Most of the time, they may guide the user to enter secret phrases on the website, and then transfer the crypto assets in the wallet out to another one.
Here's an example of a phishing website:
The phishing website attracts user by posting airdrop event on the main page. When a user clicks "Claim Rewards", he will be guided to a page to enter secret phrase.(The word phrase is written incorrectly as Pharase on the phishing website.)
When a user enter the 12-word secret phrase to connect wallet on the page, the scammers will use these words to transfer all the assets out.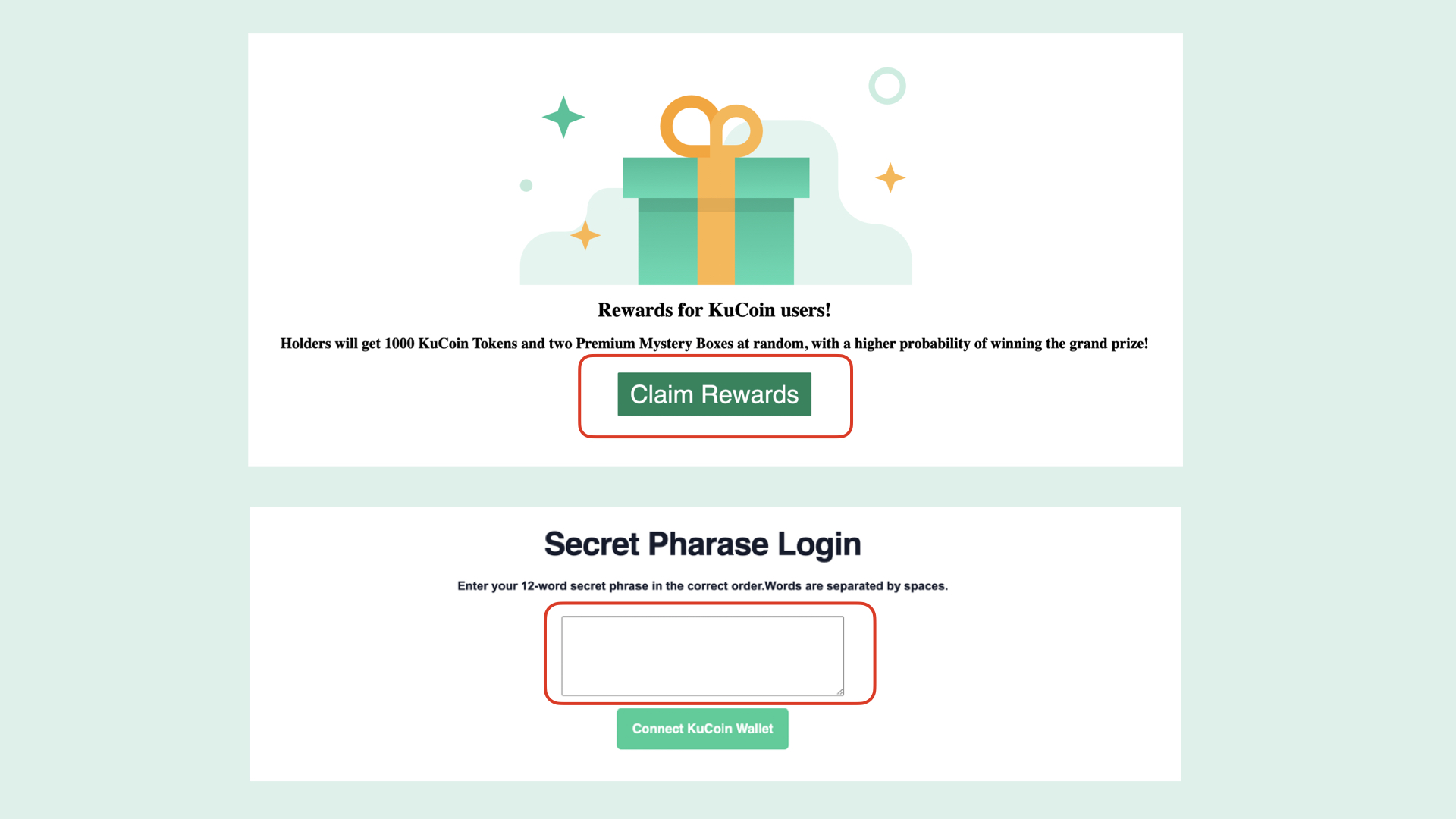 Please be noted that the only official website of KuCoin Wallet is
https://kuwallet.com/
In addition, KuCoin Wallet will never ask users for secret phrases or any other important information. Please do not share your secret phrases with any third-party website or other people. Stay vigilant and enhance your security awareness. If you spot phishing sites, please contact us through the following official channels. We will notify our users of these scams as soon as possible.
Twitter: https://twitter.com/KuWallet
Discord: https://discord.gg/958cKHaG2m
Telegram Group: https://t.me/kuwallet
About KuCoin Wallet
KuCoin Wallet is a secure and easy-to-use crypto wallet that supports multi-chain aggregation powered by the KuCoin ecosystem. With the security expertise of KuCoin and the leading security technology audited by Hacken, KuCoin Wallet is a self-custody wallet with users having full control of their assets. KuCoin Wallet provides the easiest way for users to manage multi-chain assets and enables them to buy, store and view NFT collections directly within the wallet. KuCoin Wallet is a gateway to the world of Web3 for all crypto users.
Join us
Website: kuwallet.com
Twitter: https://twitter.com/KuWallet
Medium: https://medium.com/@KuWallet
Telegram: https://t.me/kuwallet
Discord: https://discord.gg/958cKHaG2m