To celebrate our partnership with Zignaly, KuCoin Wallet is collaborating with Zignaly to hold a giveaway event.
During the event, users who complete all the tasks will win a share of a prize pool worth $2,000 in ZIG tokens!
Event Duration: 3:00 AM, Oct 11th - 3:00 AM, Oct 18th (UTC)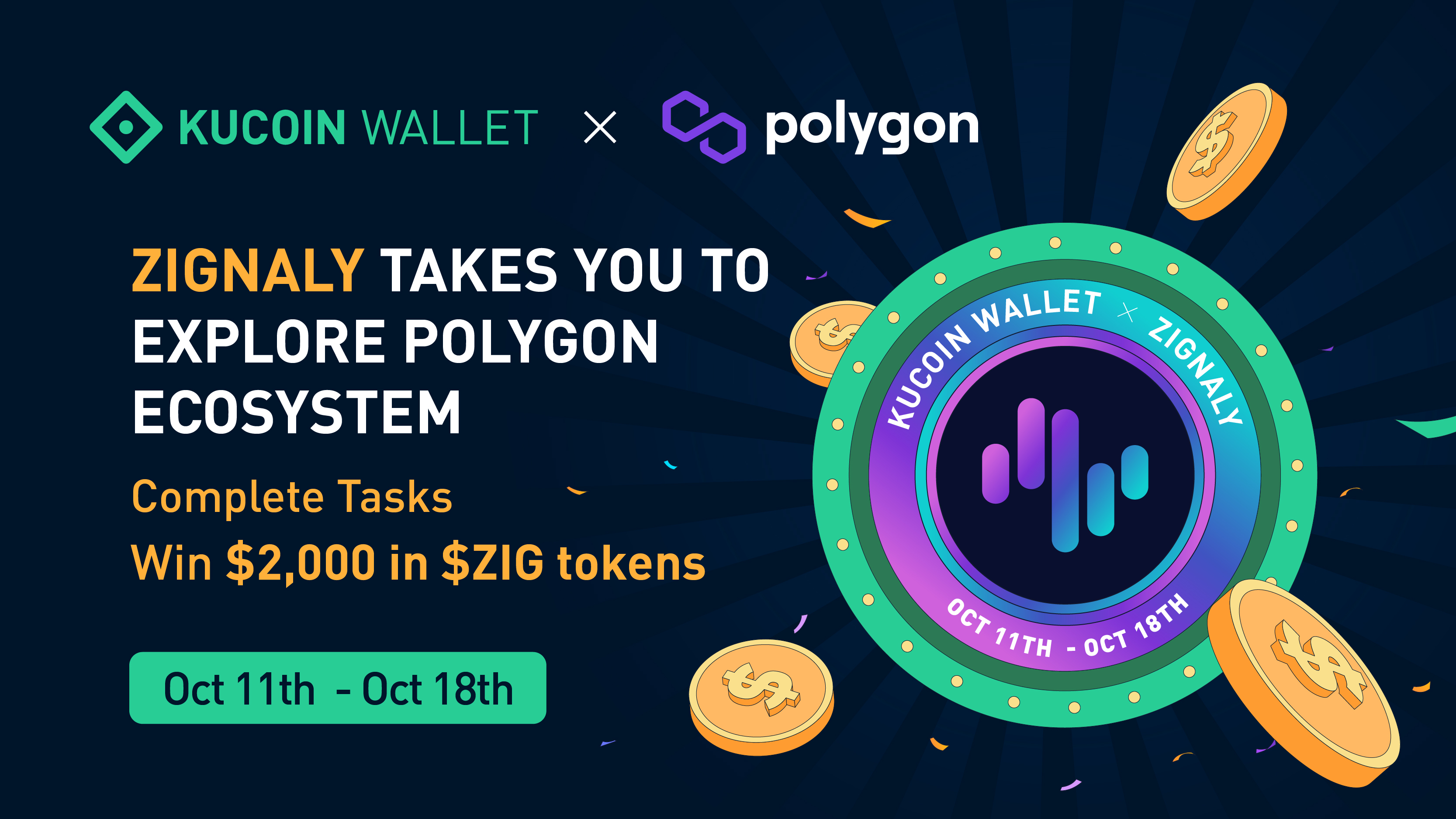 How to join:
Step 1: Follow Zignaly & KuCoin Wallet on Twitter
Step 2: Tweet the picture of 'ZIG x Kucoin' auction on ZIGBids with hashtags: #ZIGBids #Kuwallet #OnPolygon
Step 3: Participate in the 'ZIG x Kucoin' auction on ZIGBids using KuCoin Wallet
1. Kucoin Wallet x ZIG - Exclusive Auction: We will auction off 1x SharX minted NFT for users bidding via KuCoin Wallet on Zigbids. Date: 5PM (UTC), Oct 13th, 2022
Tutorial: ZIGBids Step-by-Step Guide (Click here for Video)
For the Exclusive Grand Auction, the first 10 bidders will get $50 in ZIG each. The next 50 bidders get $20 in ZIG each, and the rest of the amount is to be divided equally between all the remaining bidders.
Notes:
Participants must only use the KuCoin wallet to participate in the auctions campaign. Each mobile device can participate with only one address.

To be eligible to claim the rewards, participants must follow @Zignaly & @KuWallet on Twitter and tweet the picture of 'Kucoin Wallet x ZIG' exclusive auctions on ZIGBids with hashtags: #ZIGBids #Kuwallet #OnPolygon

Rewards will be airdropped to the user's KuCoin Wallet within 10 working days after the event ends.
During the event, any abusive behavior, batch creation or restoration of wallets, or any cheating behavior shall disqualify the user from the event.

Zignaly reserves the right to reject claims or disqualify users without notice.
About KuCoin Wallet
KuCoin Wallet is a secure and easy-to-use crypto wallet that supports multi-chain aggregation powered by KuCoin ecosystem. With the security expertise of KuCoin and the leading security technology audited by Hacken, KuCoin Wallet is a self-custody wallet with users having full control of their assets. KuCoin Wallet provides the easiest way for users to manage multi-chain assets, and enables users to buy, store and view NFT collections directly within the wallet. KuCoin Wallet is a gateway to the web3 world for all crypto users.
About Zignaly
With over 430,000+ users globally, the Zignaly platform and marketplace are leading the Social Investing revolution by connecting regular crypto investors with the world's top, proven expert traders and fund managers in a win/win profit-sharing model. It's expert-managed, passive crypto investing for the rest of us. Zignaly's multiple offerings also feature uniquely powerful open doors for Investors looking for full-fledged Portfolio Management services, staking vaults, IDO participation via the ZIGPad, NFT raffles, and a revolutionary new Bridge solution.