In order to celebrate the KuCoin 5th Anniversary, KuCoin Wallet has partnered with KuCoin to hold a Lucky Draw event to provide generous rewards to KuCoin users.
Event Duration: 00:00:00, September 28–23:59:59, October 4, 2022 (UTC)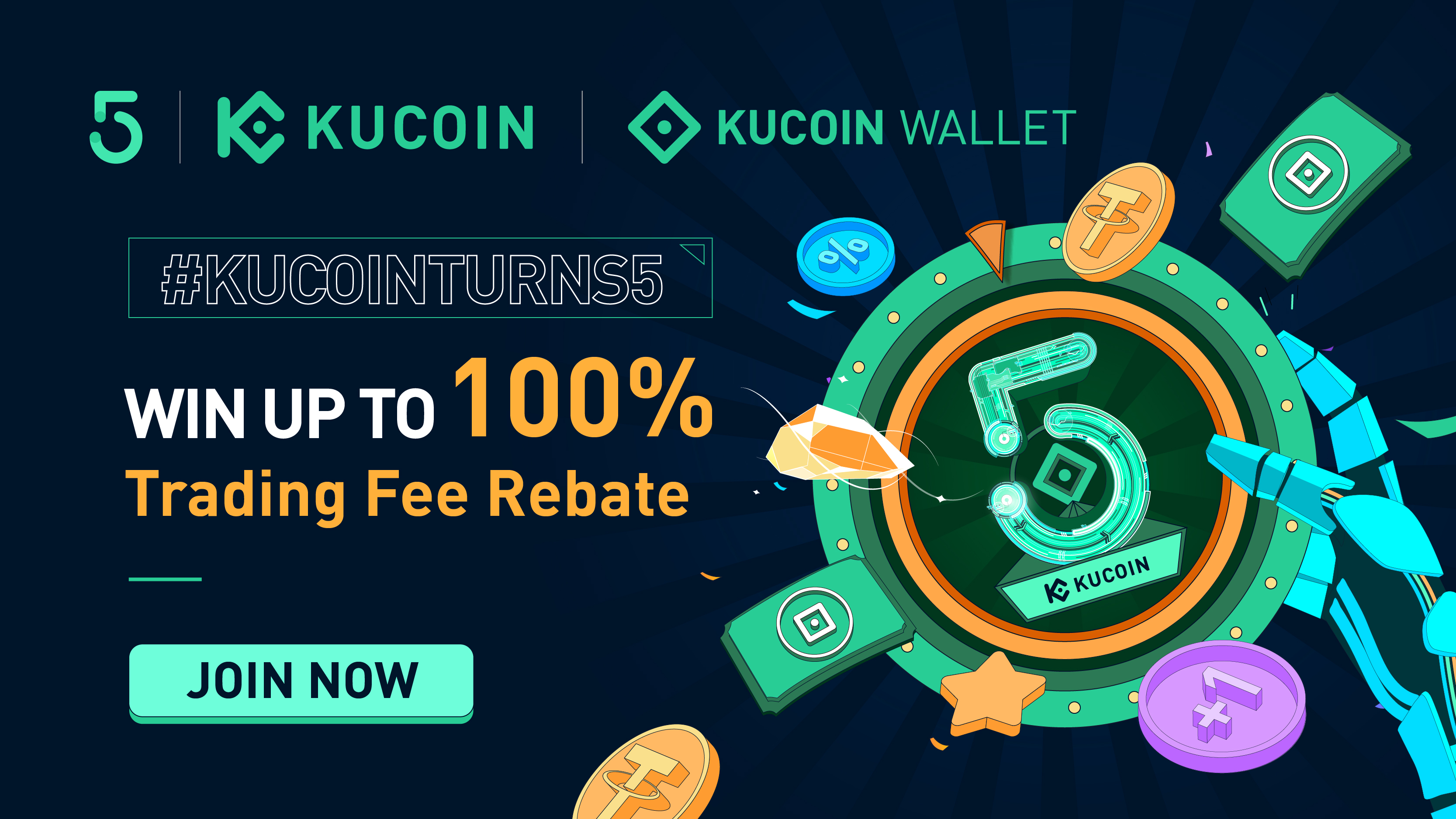 Each time users reach 100 USDT in trading volume, they receive a lucky draw. The prize pool includes Gems, Margin Interest-Free Coupons, Futures Trial Funds, Futures Deduction Coupons, Trading Bot Fee Rebate Coupons, KuCoin Wallet Rebate Coupons, and more.
Users who receive KuCoin Wallet Rebate Coupons can download KuCoin Wallet and perform a swap for any trading pair. Trading fees incurred during the event will be returned to the user's wallet address after the event ends.
How to use the coupon:
Step 1: Download KuCoin Wallet
Step 2: Trade any tokens with the native swap function (Tutorial)
Step 3: Fill out the form. Please make sure to fill in the correct KuCoin UID and KuCoin Wallet address(any chain).
Step 4: Trading fees incurred during the event will be returned to the user's wallet address according to the face value of the coupon.
Notes:
The face value of the coupons range from 10 USDT to 100 USDT and can be used on top of each other.
The validity period of the coupon is September 28 — October 11.
Trading fees will be converted to USDT cashback at the market price.
Trading fees during the validity period can be accumulated and airdropped directly to KuCoin Wallet address within 7 working days after the end of the event.
KuCoin Wallet reserves the right of final interpretation for this event.
>>>Learn more about the events by KuCoin Wallet to celebrate KuCoin 5th Anniversary.
👉KuCoin Wallet Grand Giveaway Campaign
About KuCoin Wallet
KuCoin Wallet is a secure and easy-to-use crypto wallet that supports multi-chain aggregation powered by the KuCoin ecosystem. With the security expertise of KuCoin and the leading security technology audited by Hacken, KuCoin Wallet is a self-custody wallet with users having full control of their assets. KuCoin Wallet provides the easiest way for users to manage multi-chain assets and enables them to buy, store and view NFT collections directly within the wallet. KuCoin Wallet is a gateway to the world of Web3 for all crypto users.
Join us