To celebrate the partnership with CryptoRich, KuCoin Wallet is collaborating with CryptoRich to hold an NFT giveaway event.
During the event, users who complete all the tasks on KuCoin Wallet will be eligible for a prize pool worth 10,000 USDT!
Event time: 10:00 AM (UTC), Sept 15th — 10:00 AM (UTC), Sept 21st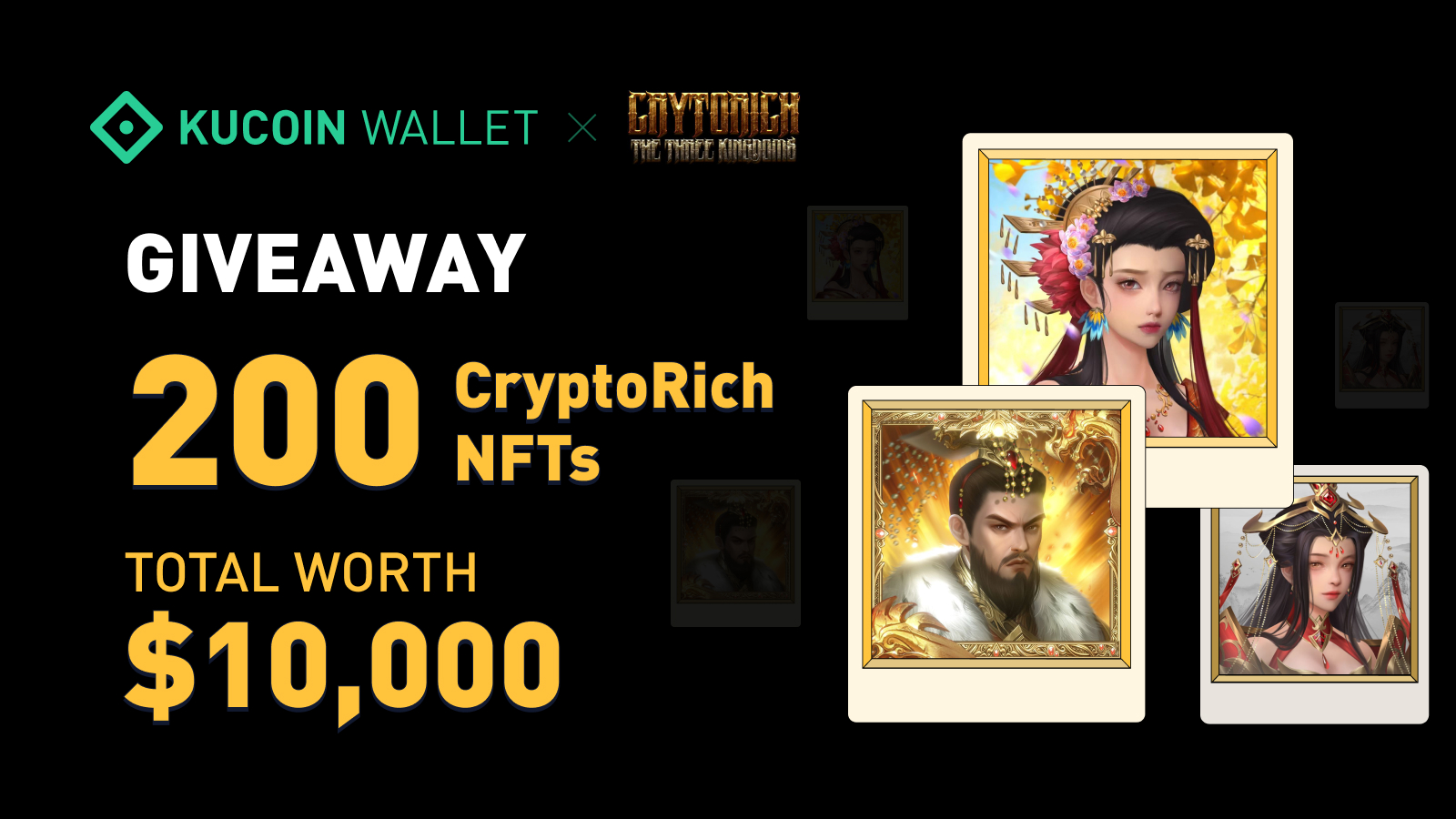 How to Join:
Step 1: Download and install the KuCoin Wallet.
Step 2: Create or restore a wallet.
Step 3: Deposit at least 50 USDT worth of tokens to KuCoin Wallet.
Step 4: Complete at least 1 transfer (any amount) or connect KuCoin Wallet to any DApp to complete at least 1 transaction (any amount).
Step 5: Join the community and submit the form here.
A total of 200 users will be selected randomly and each will get a CryptoRich NFT.

Instructions on Holdings:
During the event, KuCoin Wallet will randomly take snapshots of your holdings and calculate the average amount held as follows: the sum of the holdings per snapshot / number of snapshots.
Calculation of actual holdings: Market price of tokens held (actual price determined on the KuCoin exchange when the event ends) * amount that user holds.
Snapshots of holdings support the following networks: Ethereum, BSC(BNB Smart Chain), Polygon, and KCC(KuCoin Community Chain). Assets on other networks will not be counted. The tokens counted on each network are as follows:
| | |
| --- | --- |
| Chain Network | Tokens Counted |
| Ethereum | BTC, USDT, ETH, KCS, BNB, USDC, MATIC, WETH |
| BNB Smart Chain | BTC, USDT, ETH, BNB, USDC, MATIC, BUSD, WBNB |
| Polygon | BTC, USDT, ETH, BNB, USDC, MATIC, WMATIC |
| KuCoin Community Chain | BTC, USDT, ETH, KCS, USDC, MJT, WKCS |
Notes:
Each mobile device can participate with only one address.
Rewards will be airdropped to the user's KuCoin wallet account within 10 working days after the event ends.
During the event, any abusive behavior, batch creation or restoration of wallets, or any cheating behavior shall disqualify the user from the event. KuCoin Wallet will implement these rules strictly.
KuCoin Wallet reserves all rights to the final interpretation of this event.
Risk Disclaimer:Crypto is highly volatile and contains huge amounts of risk, please proceed at your own risk. KuCoin Wallet shall not be held accountable or provide compensation for any loss incurred.
If you have any questions, please don't hesitate to contact us:
Twitter>>>
Telegram>>>
Discord>>>
About KuCoin Wallet
KuCoin Wallet is a secure and easy-to-use crypto wallet that supports multi-chain aggregation powered by KuCoin ecosystem. With the security expertise of KuCoin and the leading security technology audited by Hacken, KuCoin Wallet is a self-custody wallet with users having full control of their assets. KuCoin Wallet provides the easiest way for users to manage multi-chain assets, and enables users to buy, store and view NFT collections directly within the wallet. KuCoin Wallet is a gateway to the web3 world for all crypto users.
About CryptoRich
CryptoRich is a blockchain game developed by Memory Labs, which was established in Singapore in 2019.The inspiration of CryptoRich comes from China's four famous novels — Romance of the Three Kingdoms. As an important part of MDAO's NFT ecology, Fujia Three Kingdoms focuses on card strategy and random exploration. In order to obtain greater MDAO revenue, users can use MDAO tokens to extract blind boxes, obtain characters, mounts, weapons, etc. in the game, and start your own play-to-earn era.