To celebrate the successful launch of the new native swap feature, KuCoin Wallet is collaborating with 1inch to host the trading campaign with a prize pool worth 10,000 USDT!
With the native swap implemented, KuCoin Wallet has taken a big step forward in its original functionality by partnering with 1inch Network. The introduction of the leading Pathfinder algorithm enables a high level of native trading and provides users with the best rates across hundreds of leading decentralized exchanges.
KuCoin Wallet sincerely invites global users to experience the easier and cheaper swap feature!
During the event, users will be ranked on the total trading amount ( Buy + Sell) through KuCoin Wallet native swap. All participants will be eligible for a prize pool worth 10,000 USDT!
Event time: 2:00 PM (UTC), Sept 1st - 2:00 PM (UTC), Sept 7th, 2022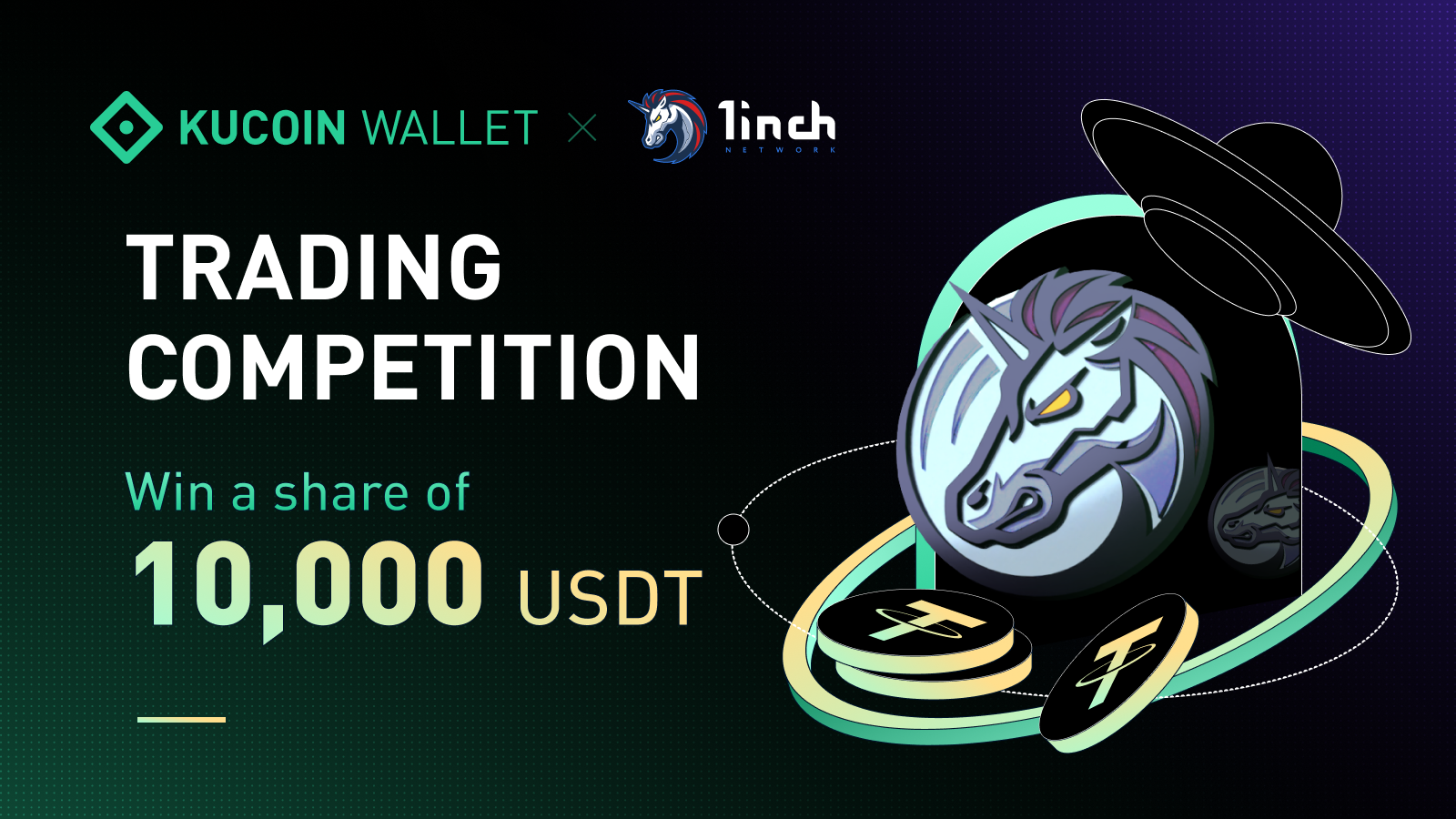 Event 1: Top20 traders: Win a share of 5,000 USDT!
During the event, top20 traders who at least achieve 3,000 USD trading amount (Buy + Sell) cumulatively via KuCoin Wallet native swap will share the $5,000 prize pool!
| | |
| --- | --- |
| Rank | Reward |
| Top1 | 1,200 USDT |
| Top2 | 800 USDT |
| Top3 | 600 USDT |
| 4-10 | Equally share 1,400 USDT |
| 11-20 | Equally share 1,000 USDT |
Event 2: Participation Award: Share $5,000 of 1INCH tokens!
During the event, a prize pool of $5,000 of 1INCH tokens will be equally distributed between top500 qualified traders who meet the following requirements:
Achieve total trading volume amount at least 200 USDT

Make at least 2 trades through KuCoin Wallet native swap
Notes:
To be eligible, all trading volume must occur within KuCoin Wallet native swap

Users can join both events at once. Each mobile device can participate with only one address.

Rewards will be airdropped to the user's KuCoin wallet account within 10 working days after the event ends.

During the event, any cheating behavior shall disqualify the user from the event. KuCoin Wallet will implement these rules strictly.

KuCoin Wallet reserves all rights to the final interpretation of this event.
Risk Disclaimer: Crypto is highly volatile and contains huge amounts of risk, please proceed at your own risk. KuCoin Wallet shall not be held accountable or provide compensation for any loss incurred.
If you have any questions, please don't hesitate to contact us:
Website: http://kuwallet.com
Telegram: https://t.me/kuwallet
Twitter: https://twitter.com/KuWallet
Discord: https://discord.gg/958cKHaG2m
About KuCoin Wallet
KuCoin Wallet is a secure and easy-to-use crypto wallet that supports multi-chain aggregation powered by the KuCoin ecosystem. With the security expertise of KuCoin and the leading security technology audited by Hacken, KuCoin Wallet is a self-custody wallet with users having full control of their assets. KuCoin Wallet provides the easiest way for users to manage multi-chain assets, and enables users to buy, store and view NFT collections directly within the wallet. KuCoin Wallet is a gateway to the web3 world for all crypto users.
About 1inch Network
The 1inch Network unites decentralized protocols whose synergy enables the most lucrative, fastest and protected operations in the DeFi space. 1inch offers access to hundreds of liquidity sources across multiple chains. The 1inch Aggregation Protocol facilitates cost-efficient and secure swap transactions across multiple liquidity sources. The 1inch Liquidity Protocol is a next-generation automated market maker that protects users from front-running attacks and offers attractive opportunities to liquidity providers. The 1inch Limit Order Protocol provides the most innovative and flexible limit order swap opportunities in DeFi. The 1inch Wallet is a fast and secure mobile application for storing, receiving, sending and swapping crypto assets.